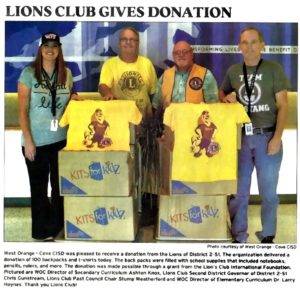 Hurricane Harvey Relief
From MD-2 Texas Lions Council Chair Rick Talbert  — September 5, 2017:
Thanks to everyone who is reaching out to help Texas in dealing with the devastating effects of Hurricane Harvey and its aftermath.  The rain has finally stopped and the affected areas (ranging from Corpus Christi to Beaumont/Port Author – some 255+ miles of coastline encompassing at least 58 counties declared as disaster areas) are now moving from the rescue phase of the disaster to the relief and rebuild stages.
As noted in my prior posting, in order to coordinate the flow of monetary donations, including a  LCIF Major Catastrophe Grant, the MD-2 Council of Governors has taken action to establish the Texas Lions Hurricane Harvey Relief Fund which will be coordinated through a Task Force under the direction of the 4 District Governors in the affected areas being 2-A3, 2-S1, 2-S2 and 2-S4. At this time, direct donations in the form of checks can be sent payable to Texas Lions Hurricane Harvey Relief Fund, c/o MD-2 Texas Lions, PO Box 294509, Kerrville, TX 78029. Please be aware that MD-2 is a 501(c)(4).
In addition, if funds are required to be payable to a 501(c)(3), they can be sent to either of the following:  LCIF, 300 W. 22nd St., Oak Brook, IL 60523 or Texas Lions Foundation, PO Box 64881, Lubbock, TX 79464.  In either case be sure to indicate "Hurricane Harvey Relief Fund" on your check and send a copy of your transmittal to MD-2 Texas Lions at the address above.
Each of the District Governors in the 4 districts noted above [2-A3 DG Jesse Rodriguez, 2-S1 DG Russell Wheeler, 2-S2 DG Betty Ezell and 2-S4 DG Jerry Gilbert] are working through their District Alert teams to coordinate on the ground efforts which are now in full operation mode.  In order to facilitate the exchange of information, all e-mail inquiries can be sent to hurricaneharvey@texaslions.org and such inquiries will be forwarded to all of the Task Force participants for appropriate response and coordination of any in kind donations and/or volunteer workforce.
Due to the scope of the disaster, this effort is still a moving target and will be a long term effort. We will try to keep everyone aware of new developments as they occur by postings on the Texas Lions website at "texaslions.org".
Thanks again for your concern and willingness to help. It is great to be a Lion as we move FORWARD TO THE FUTURE OF SERVICE in our 2nd century of service. WE SERVE.
Rick Talbert
MD-2 Council Chair