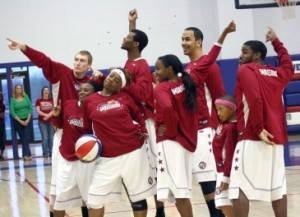 It was a night to remember and a night that very well could impact children's lives into the future.
Members of the Zapata Lions Club, in association with local merchants and civic organizations, organized a two day event built around the themes of exemplary character, emphasizing three hallmark concepts: stay in school, stay drug free and stop bulling.
Zapata, named for José Antonio de Zapata (died 1839), the revolutionary commander who served in the cavalry of the Republic of the Rio Grande,  is a city of around 5000 people located on the Texas-Mexico border about 50 miles south of Laredo and 200 miles south of San Antonio. The city sits along the shores of Falcon Lake, and is known as the gateway to the Rio Grande Valley.
When the Lions Club decided to host an event they looked for family fun to match the city's character. They turned to a charity-minder organization called the Harlem Ambassadors whose goal is to deliver a quality basketball show to audiences throughout the United States and internationally. The organization has partnered with over 3,000 non-profit organizations in all 50 states and 20 countries.
The Harlem Ambassador event took place at the Zapata High School Gym on Thursday, February 5, 2015 at 7:00pm, but it was preceded the day before by coordinating visits to the elementary schools and the middle schools. Each of the professional athletes has their own inspirational story to tell. Lion Aurelio Villarreal, who was involved in the hosting, remarked, "One of the most moving moments occurred during the Middle School Assemby where the Ambassadors had the entire student body cheering from one end to the other, shouting "Drug Free – College Degree"/
The event, the following night, was a complete sell out,  with over 1500 persons attending. The gym was so crowded that people had to be turned away. All were treated to a fun evening of exemplary basketball skills, comedy, a lot of fun, and a great message to live.
The event was made possible due to Law Enforcement Sponsors and local merchants, including the Webb-Zapata District Attorney's Office, the Zapata County Attorney's Office, the Zapata Sheriff's Department, State Representative Tracy King, the Holiday Inn Express of Zapata (who provided all the lodging for the players), Steak House Restaurant (who provided dinner for the players, and the Zapata Independent School District for lending out the facilities at the high school.
"It was a magnificent example of what the Lions can do when they team with their local schools, government, and community merchants to dedicate their cooperative efforts to help children," Lion Villarreal said.