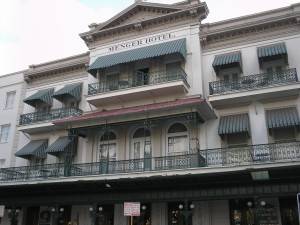 To book a room at the Menger Hotel for the Second Council of Governors Meeting, click the link below or copy the link and paste it or type it into your browser search bar. It will take you directly to the special reservation page for the Lions Council meeting. The rate will automatically be the block rate of $126.00/night. Type in all your information as directed.
https://bookings.ihotelier.com/bookings.jsp?groupID=1296744&hotelID=75799
You may also go to www.mengerhotel.com. Enter the travel dates at the bottom of the screen and press book now. The next screen will have a place on the right side to "Enter your access or promotional code". Click that line to access the codes and enter our special block Group Code: GOVLIONS. This should once again give you our correct rate of $126.
If you decide to call make sure you give them the group code above: (210) 223-4361 or you can call toll free (800) 345-9285.
The special rate is for November 5-7, but will be extended for 3 days before and after for those who want to enjoy downtown San Antonio. There are many special excursions, tickets, and bus tours available at the hotel, including their famous "Dinner & Ghost Tours". This tour is usually full, so you should make reservations for it in advance of arrival.
Parking in the hotel lots are valet only, but we have a reduced rate for our group of $20.00/day.
Reservations must be made by October 13 to obtain the Lions special rate. Rack rates apply, thereafter. Please check their cancellation and early check-out policies.
Directions: The Menger is located at 204 Alamo Plaza directly across from the Alamo. Take Commerce Street approximately 4 blocks west off of I-37 and turn north (right) on Alamo Street. In the 2nd block you will see it set back behind the small plaza. Turn right between the Alamo & the Menger to access the valet & check in entrance.