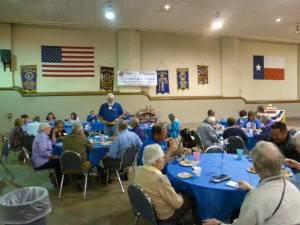 As a call to action, the Midland Downtown Lions hosted a joint luncheon with Prevent Child Abuse Texas on April 6, 2016, to kick off a month of the Lions statewide promotion "Wear Blue". The Council of Governors for the State of Texas have dedicated the month of April to working with local Lions clubs in raising the awareness of Child Abuse in Texas.
How serious is the problem of Child Abuse. Consider the following facts:
Today, 185 Texas children will be victims of abuse.
In one year, more than 65,000 cases of child abuse were confirmed in Texas.
1 in 4 Girls is sexually abused before her 18th birthday.
1 in 6 boys is sexually abused before his 18th birthday.
"We believe that it's absolutely imperative that the largest service organization in the world should take part in working with federal, state and local law enforcement and advocacy agencies to stop this epidemic that plagues not only us in Texas, but all over the world," stated Council Chair Tom Blase. "The Lions have always been mighty guardians of children in so many way, it only seems fitting that we take up our standard against child abuse."
The event was well attended and was covered by Television and newspaper journalists from the local area. The Lions in Midland organized appearances on three radio and three television talk shows announcing the joint efforts.
While joining with the Prevent Child Abuse Texas organization, there was also a tangible benefit. Renewed awareness flooded the airwaves and, as a result, the Midland Downtown Lions took applications for two new members wanting to serve their community.
The Prevent Child Abuse Program of "Wear Blue" was a foundational tenet to the re-MEMBER Texas program, designed increase participation in local clubs, raise the awareness locally of the plight, and to help community members join the Lions and get involved in their own communities.