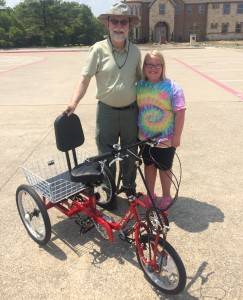 Nine year old Kori Parker is a bit like every other girl her age. She enjoys being with kids her own age, has fun at school and is involved in several extracurricular activities. By all outward appearances everything seems great and it's easy to see why. Kori wins you over with her gentleness, her smile and positive attitude before you notice anything else.
But what many people don't know is that things don't come as easily to her as her friends. Kori contends with the challenge of having a muscle tone deficit, and speech difficulties.  The muscle tone issue requires her to exert twice as much physical activity as the average person to burn calories.  While she is involved in soccer and gymnastics, she also works an order of magnitude harder than her teammates. Most beneficial to her is actually doing activities that strengthen and exercise her body. Lions in the Coppell area became aware of her needs and through a series of extraordinary connections, a small miracle was about to occur.
The perfect solution developed recently when the Texas State Lions began a new assistance program for people with mobility issues. Working with Rock and Roll Cycles in Lubbock, Texas Lions immediately recognized the benefits of partnering and thus began looking for opportunities to get the new mobility vehicles into the hands of those in need of them. Initially, Rock and Roll Cycles had worked with individuals with spina bifida, amputations, cerebral palsy, and other conditions that hindered the ability of the individual to get around. With encouragement from the District 2-X1 Lions. the organization brought two cycles to Dallas and introduced the, to the Lions in the area by sponsoring a race among its members as an awareness project. The hope was that the Lubbock-based group would be able to provide more cycles to children and Veterans through the combined efforts with the Lions.
The Rock and Roll Cycle is a modified tricycle that has pedals similar to a regular bike, but also has handlebars that the rider uses to pull and push to cause the bike to move. This pushing and pulling, or rock and roll, as the inventors say, allows the rider to gain mobility without having to exert as much energy with the legs to pedal. It serves multiple purposes in that the rider gains a new freedom of transportation and the actual mechanics of the cycle improves and strengthens the riders muscles. Something perfect for Kori's situation.
Enter the Coppell Lions who got in touch with Montie Parker, Kori's dad. Mr. Parker is the Director of Special Education in the Intervention Services Department of CISD, and knows well the value of such assistive devices. With help from the Texas State Lions, the Dallas Founders Lion Club, the Coppell Lions and the Harry W Bass Foundation, Kori was fitted for a new cycle and it was delivered to her at the end of September. "Thanks to you guys [Kori] enjoys riding this bike to help recover other losses with muscle strength and coordination," Mr. Parker expressed.
The Rock 'n Roll Cycle has enabled her to enjoy freedom, independence, and a personal sense of accomplishment by removing a barrier that was there before without having
the right tool.  "Within a couple of weeks of riding her new bike, she was running for longer distances on the soccer field with increased endurance and action.  She is also enjoying being able to have interactive play time with her brother that she was previously not able to do and had to stay at home by herself.  This has been such a wonderful experience for her and we feel highly blessed to have been awarded this gift from all of the Lions," Mr. Parker said.
A host of Lions were on hand to present the cycle to Kori, who immediately took to it as if she'd been riding all her life. On hand were District Governor Kathleen Tyre, First Vice District Governor Bill Smothermon, Dallas Founders Lions Club member Kathy Fletcher, Coppell Lions Club President, Ed Darling and the members of the Coppell Lions Club.
"It's a great day when the Lions can make such a difference in a young person's life. Where there is a need, there are Lions. We've been providing empowering services for almost 100 years and we're not about to stop!" Darling said.
Meanwhile, Kori now rides her bike with the other kids now. In fact, they all think her cycle is pretty cool.