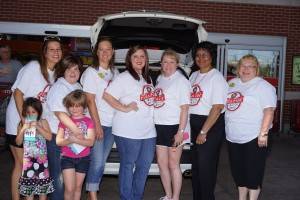 On Saturday, August 8, Waco Women's Lions Club (WWLC) held their second annual "Fill a Fiat" event to fill McLennan County Pack of Hope's food pantry. Twelve new Fiats were parked in front of 12 Central Texas-area locations, and were literally filled with kid-friendly food items from generous shoppers. McLennan County Pack of Hope exists to erase child hunger in our area by supplying 17 participating school districts' eligible students with backpacks filled with nutritious food to prevent hunger from Friday through Sunday when they are not in school.
WWLC invited other Central Texas Lions to serve at this year's Fill a Fiat event, resulting in nine clubs that participated, including: China Spring-Bosqueville Area Lions Club, Crawford Lions Club, Hewitt Lions Club, Hico Lions Club, McGregor Lions Club, Robinson-Area Lions Club, Temple Founder Lions Club, Temple-Belton Ladies Lions Club and Waco Founder Lions Club. More than 100 Lion volunteers spread out across Central Texas on a 103-degree day to staff the 12 locations at HEB Plus on S. Valley Mills Drive, Sam's Club, Walgreens on Bosque and in Woodway, Drug Emporium, Brookshires in Robinson, Brookshire Brothers in Lorena and McGregor, United Super in Hewitt, Allen Samuels Fiat dealership, Rocky Mountain Chocolate Factory, and Family Dollar in China Spring.
WWLC Fill a Fiat Co-Chairs Jennifer Sanderson and Leah Bennett said, "We are very excited to announce that we collected 3,436 pounds of food, along with $4,500 in donations! This will help Pack of Hope provide food for more than 1,000 students over the weekend this coming school year. We could not have pulled off this year's event without the help of Allen Samuels Fiat and our partnering Lions clubs, in addition to the locations that permitted us to collect donations."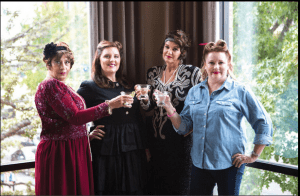 The actions of the new group in Waco, got the attention of their community, and as such, they found themselves on the front cover of Waco Today Magazine. You can view the article by clicking this link.
When Lions work together, great things happen!