Texas is the second largest state in the union, and is home to 850 clubs and over 23,000 members. Each year, Texas Lions contribute nearly two million service hours helping their communities and charitable organizations.
Texas was divided most recently into 16 districts, all within Multiple District 2. Below is a map of those districts and then a table linking to their respective web resources.
For help in joining a club or starting a new club in your community, click here.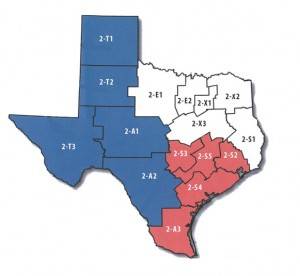 To find a club in your area check the list below
To find a Club by your County, click here.
| District | Counties/Locations | Current District Governor | Web Site |
| --- | --- | --- | --- |
| District 2-T1 | Armstrong, Briscoe, Carson, Castro, Childress, Collingsworth, Deaf Smith, Dallam, Donley, Gray, Hall, Hansford, Hartley, Hemphill, Hutchinson, Lipscomb, Moore, Ochilltree, Oldham, Parmer, Potter, Randall, Roberts, Sherman, Swisher, and Wheeler. | Phyllis Elsey | http://www.lionsdistrict2-t1.com |
| District 2-T2 | Bailey, Borden, Cochran, Cottle, Crosby, Dawson, Dickens, Fisher, Floyd, Gaines, Garza, Hale, Hockley, Kent, King, Lamb, Lubbock, Lynn, Motley, Scurry, Terry, and Yoakum. | Vance Gibson | http://www.lions2t2.org |
| District 2-T3 | Andrews, Brewster, Crane, Culberson, Ector, El Paso, Hudspeth, Jeff Davis, Loving, Pecos, Presidio, Reeves, Terrell, Upton, Ward, and Winkler | John Feighery | http://www.e-district.org/sites/2t3 |
| District 2-E1 | Archer, Baylor, Callahan, Clay, Comanche, Eastland, Erath, Foard, Hardeman, Haskell, Jack, Jones, Knox, Montague, Palo Pinto, Shackelford, Stephens, Stonewall, Taylor, Throckmorton, Wichita, Wilbarger, and Young | Ken Baxter | http://www.e-district.org/sites/2e1/index.php |
| District 2-E2 | Collin, Cooke, Denton, Grayson, Hood, Johnson, Parker, Somervell, Tarrant, and Wise | Charles Bethards | http://www.lions2e2.org |
| District 2-X1 | Dallas, Ellis, Hunt, Kaufman, and Rockwall | Henry White | http://www.lions2-x1.org |
| District 2-X2 | Bowie, Camp, Cass, Delta, Fannin, Franklin, Gregg, Harrison, Hopkins, Lamar, Marion, Morris, Rains, Red River, Smith, Titus, Upshur, Van Zandt, and Wood | Paul Boggs | http://www.e-district.org/sites/2×2 |
| District 2-X3 | Anderson, Bell, Bosque, Coryell, Falls, Freestone, Hamilton, Henderson, Hill, Houston, Lampasas, Leon, Limestone, McLennan, and Navarro | Joe Holman | http://www.md2-x3.com |
| District 2-A1 | Brown, Coke, Coleman, Concho, Crockett, Glasscock, Howard, Irion, Kimble, Llano, Martin, Mason, McCulloch, Menard, Midland, Mills, Mitchell, Nolan, Reagan, Runnels, San Saba, Schlecher, Sterling, Sutton, and Tom Green | Armando Subia | http://txlionsdistrict2a1.com |
| District 2-A2 | Atascosa, Bandera, Bexar, Dimmit, Edwards, Frio, Gillespie, Kendall, Kerr, Kinney, La Salle, Live Oak, Maverick, McMullin, Medina, Real, Uvalde, Val Verde, Webb, Wilson, and Zavala | Donald Kirchhoff | http://district2a2.org |
| District 2-A3 | Brooks, Cameron, Duval, Hidalgo, Jim Hogg, Jim Wells, Kenedy, Kleberg, Nueces, San Patricio, Starr, Willacy, and Zapata | Jesse Rodriguez | http://www.lions2a3.com |
| District 2-S1 | Angelina, Cherokee, Hardin, Jasper, Jefferson, Nacogdoches, Newton, Orange, Panola, Polk, Rusk, Sabine, San Augustine, Shelby, Trinity, and Tyler | Russell Wheeler | http://www.district2s1.org |
| District 2-S2 | Chambers, Harris, Liberty, Montgomery, San Jacinto, Walker, and Waller | Betty Ezell | http://www.lions2s2.org |
| District 2-S3 | Bastrop, Blanco, Burnet, Caldwell, Comal, Hays, Milam, Travis, and Williamson | John Pruett | http://e-district.org/sites/2s3/index.php |
| District 2-S4 | Aransas, Bee, Brazoria, Calhoun, Dewitt, Fort Bend, Galveston, Goliad, Jackson, Karnes, Lavaca, Matagorda, Refugio, Victoria, and Wharton | Jerry Gilbert | http://www.district2s4lions.org |
| District 2-S5 | Austin, Brazos, Burleson, Colorado, Fayette, Gonzales, Grimes, Guadalupe, Lee, Madison, Robertson, and Washington | Johanna Elliott | https://e-district.org/sites/2s5/ |