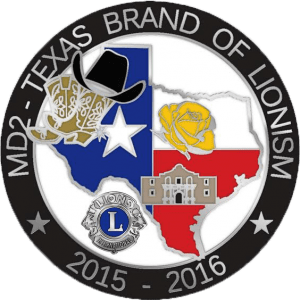 In order to provide for optimal effectiveness, the International Association of Lions Clubs organize themselves into a leadership and reporting structure that consists first of the local club. That club has it's own officers such as President, Vice-President, Secretary, Treasurer, and others that help to coordinate activities and services to their community.
Each club, is a member of a larger, regional organization called a District. In Texas, there are 16 such districts, each of which is lead by the District Governor and his/her cabinet of officers.
Each district rolls up into a Multiple District. Texas' 16 districts comprise Multiple District 2 (MD-2) in the International Association of Lions Clubs.
The District Governors of the 16 districts in Texas is known as the Council of Governors, who meet at least four times a year to conduct the business of Texas Lions at the Multiple District level. In addition to the 16 District Governors, one Past District Governor serves as the Council Chairperson.  The MD-2 Council of Governors, therefore, is the governing authority for all Lions in the State of Texas.
The Council and it's District Governors govern according to the Constitution and By-Laws of the International Association of Lions Clubs and of Multiple District 2. (Note that The International Association of Lions Clubs grants specific powers to the Council of Governors. Powers of the Council of Governors are defined in the Multiple District 2 Constitution and By Laws Article VI Section 3.pg 9.)
Related Information:
Second Vice-District Governors